Konkurransen gjennom tidene
1988
The opening of the Crown Princess Sonja International Music Competition, for pianists
1992
New name: the Queen Sonja International Music Competition, for pianists
1995
Kirsten Flagstad centenary: the first competition for singers, held every two years
1999-2007
National competitions held in Stavanger, Trondheim and Bergen
Measha Brueggergosman (soprano, Canada), Second Prize winner and awarded the Troldhaugen Grieg Prize in the 2003 Competition
2005
'10 Years Song': previous prize winners' concert with the Norwegian Radio Orchestra at the Royal Palace. Four sopranos: Akie Amou (Japan), Virginia Tola (Argentina), Marita Sølberg (Norway) and Olga Mykytenko (Ukraine). Conductor: Rolf Gupta
Marita Sølberg (soprano, Norway) performing at the Royal Palace, 2005
2007
Commissioned works by four Nordic composers for the semi-final: Bent Sørensen (Denmark), Hans Gefors (Sweden), Thurídur Jonsdottir (Iceland) and Veli-Matti Puumala (Finland)
Ouverture by Bjørn Kruse, commissioned work premiered at the final concert
The Ingrid Bjoner Scholarship established
2009
'Come as you are': the competition repertoire rules were redefined
Semi-final and Final in the new Opera House
The first masterclasses were established, directed by Catherine Malfitano and Sir Thomas Allen
Oscarshall Palace introduced as a concert arena, in collaboration with the Royal Court
2011
International opera academies introduced as new partners:
· Lindemann Young Artists Development Program, Metropolitan Opera, New York
· Jette Parker Young Artists Programme, Royal Opera House, Covent Garden, London
· Bolshoi Opera Young Artists Program, Moscow
· The Opera Studio, Bayerische Staatsoper, Munich
· Internationales Opernstudio, Opernhaus Zürich
Prize-winner diplomas created by Her Majesty Queen Sonja
Touring project with three prize winners as soloists with the Arctic Symphony Orchestra: Bodø, Tromsø, Hammerfest and Alta
2012
'New Voices': a song festival in Oslo in August with seven prestigious prize winners
Concerts, masterclasses, debate and opera at the City Hall Plaza, the Norwegian National Opera & Ballet and the National Library
2013
Celebration of the competition's 25th anniversary
'Wagner Prelude' by Jan Erik Mikalsen, commissioned work for the final concert
Extended competition programme: prize winners' concert with the Kristiansand Symphony Orchestra in the Kilden Concert Hall
Jury member Carol Vaness holds a masterclass during the 2013 Competition
2014
Donation towards the first prize received from Anders Sveeas' charitable foundation
Concert hosted by H.M. Queen Sonja at Oscarshall Palace
Performance by Ingeborg Gillebo (mezzo-soprano, Norway, second prize winner 2011) at the Queen Sonja Print Award ceremony
2015
Concert at the Bolshoi Theatre of Russia 'Leading Young Opera Singers of the World'. A presentation of previous prize winners and singers from some of the competition's collaborating International Young Artist Programmes
2017
Opera gala with seven prize winners at DR Koncerthuset in Copenhagen
Opera gala with eight prize winners at the Bolshoi Theatre of Russia
Teatro alla Scala Academy Young Artists Program introduced as new partner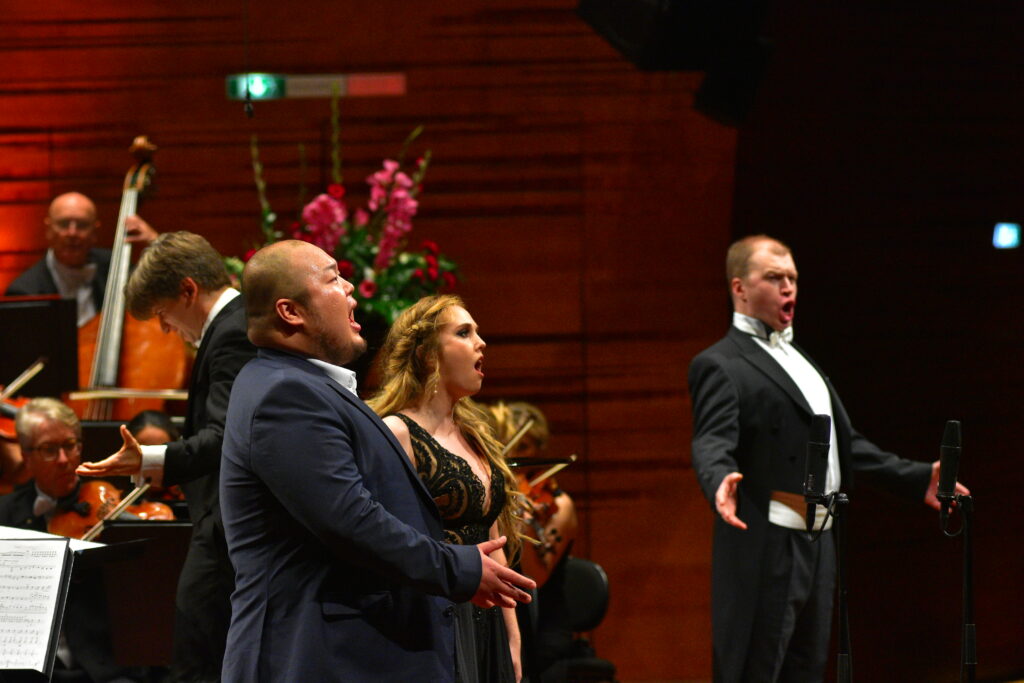 From the Prize Winner Concert at DR Koncerthuset in 2017
2019
Opera gala with up to eight prize winners at the Grieg Concert Hall in Bergen
Duets and evaluation of stage presence implemented as part of the final concert
Extended competition programme: Two vocal masterclasses and one masterclass in stagecraft. Career development session with opera directors, agents, and PR expertise
2021
Competition Covid 19-edition: Digital, live preliminary rounds and semi-final, live-streamed internationally. Live finale at the Grieg Hall in Bergen.
2022
Workshop developed by the competition and National Opera Studio, London for the Opera Academy, at Oslo National Academy of the Arts
Concert hosted by H.M. Queen Sonja at The Queen Sonja Art Stable
The foundation launches their new visual identity along with a new name: Queen Sonja Singing Competition
2023
New career development programme launched for young singing students in Norway: The Opera Academy